V-Cableway - Project of the century
V-Cableway - Project of the century
Training at Jungfrau Railways
Jungfrau Railways offers the following professional training programs to the latest standards:
Automation Engineer with the EFZ Federal Certificate of Competence
EFZ for Public Transport Retail Specialists
EFZ for Public Transport Specialists (focus on planning)
EFZ for Track Construction
EFZ for Public Transport Administrative Assistants
EFZ for Multi-Skill Technicians
EFZ for Cable Car Mechatronics Engineer
Federal Vocational Certificate (EBA) for Cableway Specialists
With up to ten apprentices per year, Jungfrau Railways is one of the largest training organisations in the Jungfrau region. A great deal of importance is attached to training, as this is a key means of attracting junior staff to the company and counteracting shortages of skilled workers. Jungfrau Railways therefore also gives apprentices the opportunity of continued employment. They are also free to work part-time so that they can combine their work with further training, like attending vocational secondary school or higher technical college. Jungfrau Railways also offers numerous development and career opportunities.
Since 2019, apprentices in most professions have been employed via the Login training association. Thanks to this partnership, Jungfrau Railways can offer state-of-the-art and versatile training with a wide range of prospects and can benefit from a large network from the transport world's vocational training landscape.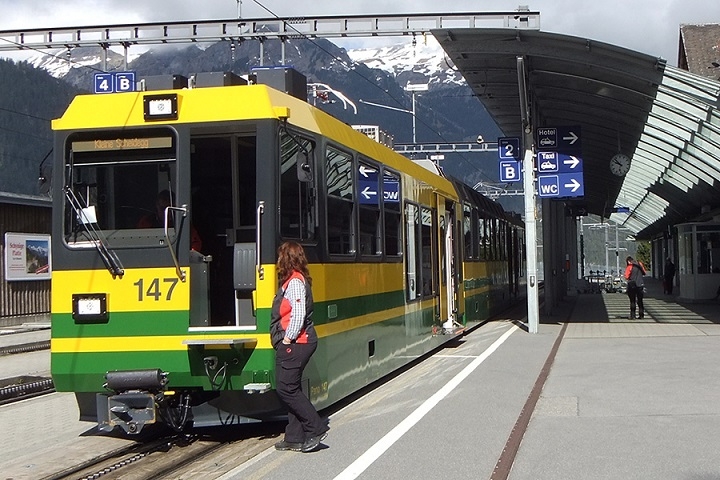 Pamela Frutiger (26) trained as a public transport clerk at Jungfrau Railways from 2009 to 2012. She then worked as Operations Manager at Wengernalp Railway. Since December 2018 she has been Wengen Railway Station Manager.
Jungfrau Railways' apprentices learn from professionals, and the informal atmosphere in the departments gives them a sense of security.
Pamela Frutiger, Railway Station Manager in Wengen
Flavios Impressions
«The great thing about the training was the frequent change of department. These various insights still enable me to understand the interrelationships and processes within the company today. After successfully completing my apprenticeship, I did further training as a railway operations controller and deepened my knowledge at Grindelwald Grund railway station. After two years I was offered the position of deputy. I accepted this exciting challenge and was able to gain experience in a management position early on.
In November 2019, I was given the great opportunity to further my development and I became manager of the new Grindelwald Terminal sales point. I very much appreciate the fact that Jungfrau Railways also selects young employees for management positions.
The V-Cableway project is a great challenge for me! It is fun to contribute and put your own ideas into action. Over the next two years there is still a lot to do. My team and I are looking forward to the successful opening of the Eiger Express on 11 December 2020.»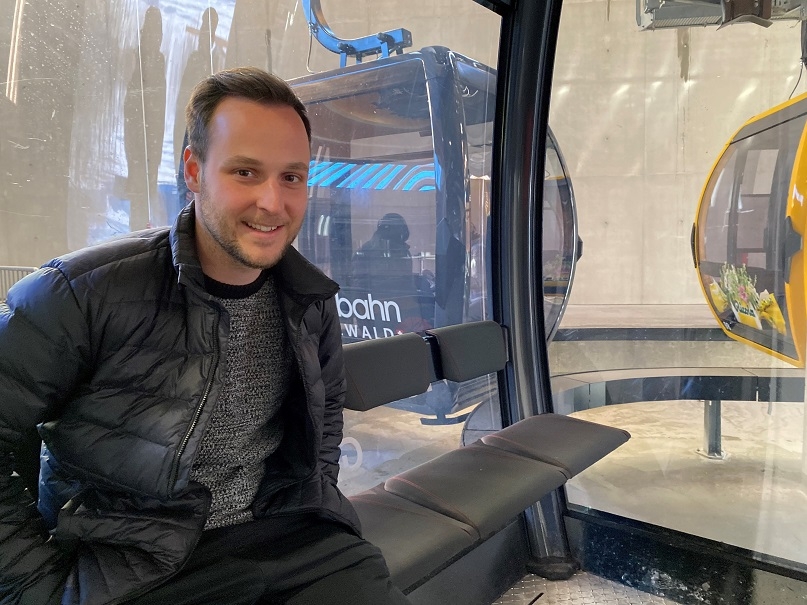 Flavio Tami (23) has been working as manager of the new Grindelwald Terminal sales outlet since November 2019. After completing his apprenticeship, he trained as a railway operations manager.
V-Cableway Project from the Employees' Perspectives
The once-in-a-generation V-Cableway project will create many new jobs in the Jungfrau Region, thus increasing the attractiveness of the location and strengthening the entire industry. Existing jobs are also becoming more attractive, as the range of services is being expanded and work will in future be carried out on ultra-modern feeder lines. This will have a positive impact, not least on long-term staff retention.
Dania Grau (22) has been an apprentice educator since October 2019.
I am convinced that the realisation of the V-Cableway will ensure Jungfrau Railways can continue to offer attractive apprenticeships in the future.
Dania Grau, apprentice educator, finished her training at Jungfrau Railways in 2016
Stefans Impressions
«It fills me with pride to be involved in the day-to-day business of an innovative and future-oriented employer like Jungfrau Railways. The company is investing in job security and competitiveness for our region with the vital V-Cableway project. With quality as the basis, something which the company takes seriously, I laid the foundation for my professional career during my training.»
Stefan Zurschmiede trained as a multi-skill technician at Jungfrau Railways' Eigergletscher workshop from 2007 to 2011. Since 2019 he has been Engineering Project Manager.
Stefan Zurschmiede (28), Project Manager Engineering
V-Cableway Project from the Employer's Perspective
By increasing the attractiveness of the business location and creating new jobs, Jungfrau Railways as an employer is equally interesting for young people, well-trained specialists and candidates for management positions. The project increases the visibility of Jungfrau Railways as an employer by using various platforms and media for advertising (social media, countdown clocks, print products, etc.) This supports employer branding, i.e. the way in which the company is perceived as an employer, both itself and in comparison with other companies, too. It also helps in terms of staff retention and even in attracting new employees.